The Vaca Muerta meteorites are rare mesosiderites (stony-iron type) from the Atacama desert in Chile.
Several thousand years ago a large meteorite with a mass of various tons fell in a remote part of the desert in the Taltal area.
Upon entering the atmosphere it broke apart. Smaller and larger masses were distributed in a strewnfield of 10 x 2 km. The largest pieces creates craters at the end of the Vaca Muerta strewnfield.
The larges Vaca Muerta crater lies on a little plateau and measures 10m and is 2m deep.
The meteorite was first discovered by miners in 1861. They collected many pieces and broke them apart in order to extract ores or even silver, as they thought.
When we went there, there were still large amounts of meteoritic material broken into very small pieces of the Vaca Muerta meteorite right were the miners worked on the meteorites. Their rusty tools scattered around the place.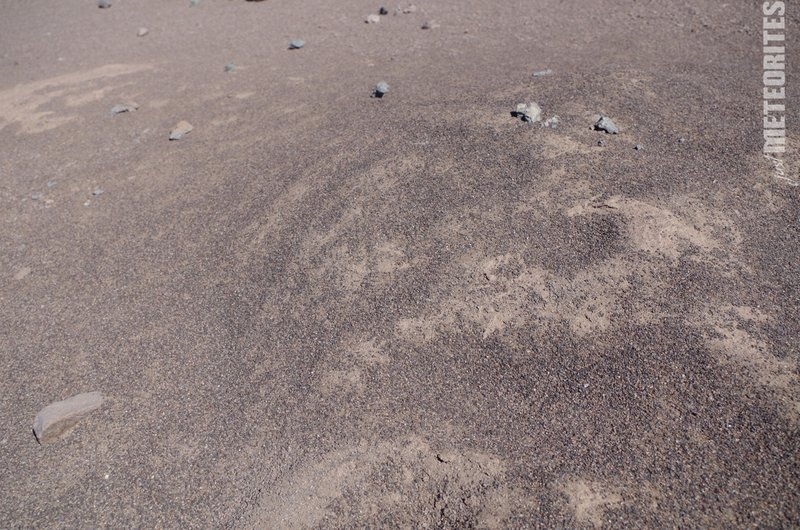 Although some meteorites found their way into different University collections in Chile, the location where the Vaca Muerta meteorite was found was forgotten for more than 100 years.
In 1985 the Vaca Muerta meteorite strewnfield was rediscovered by the Martinez brothers wo documented the meteorite craters and also found several large masses of a couple hundred kilos.
Later, Pedersen, Lindgren and the de Bon brothers collected 77 pieces exceeding 3400 Kg in 4 years of work.
In the following years many more meteorite hunters searched the area for the valueable mesosiderites
When we went there, all bigger masses were already taken away. Only small masses of up to 300g could be found around the craters.
We were able to recover the last pieces of the rare Vaca Muerta Mesosiderite by combing the strewnfield meticulously, so there won't be much more material of this rare meteorite available in the future.
Take advantage of the last Vaca Muerta meteorites for sale and acquire your specimen today!